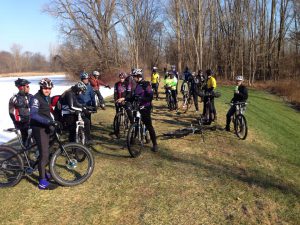 Come out to the Sixth Annual Black Friday MTB Ride at Rolling Hills and Hewens Creek Parks in Ypsilanti Township on Friday 11/28 at 10 AM. This will be a no-drop group ride and is a great chance for novice MTBer's to get exposure to single track riding and be a fun way to burn off that Thanksgiving feast and tryptophan overdose. The ride will be about 14 miles long covering about 5.5 miles at Hewens Creek and 6.2+ miles at Rolling Hills along with a few miles of dirt road connecting the two parks. For those who haven't ridden or rarely ride at either trail, Hewens Creek is a flat, winding ride through meadows and new growth forest which is great for beginning riders. The RHP trail on the other hand is very appropriately named. The trial twists and turns through 6+ miles of forest and rolling hills that provide a great opportunity to improve your bike handling skills. That is especially true for the 1.25-mile Munger loop on the west side of RHP where there are beautiful open meadows and some fun pump-track like riding on the Munger Mounds. And, if you haven't riden RHP in the past 6 months, the north meadow loop of ~1.5 miles was started this spring and should be completed in time for this event.
Meet at the Rolling Hills Headquarters building (the lodge) at 9:45 AM and then we will head out by 10-10:15 AM. After the ride, we will have some pizza and refreshments at the lodge at about 12:30 PM. Please register in advance at Event Brite to attend so a good estimate of riders can be made for the pizza and beverages. Rain date will be Saturday 11/29 at 10 AM. Look for changes in schedule on the Rolling Hills or Hewens Creek forums on the MMBA website, the Poto Yahoo! Group Email list, the Poto MBA Facebook page or Poto MBA Twitter account.
Please park in the MTB trail head parking lot: enter the park, go straight through the traffic circle and park in the first lot on your right next to a big pavilion ~1/4 mile away from the circle. The Lodge will be about 200 yards away on your left.
There will be a gate Charge to enter RHP. It is a Washtenaw County Park so if you already have WCP sticker you are good to go. Otherwise, park entry will cost $5 for everyone as a discount for non-Washtenaw residents was arranged.
Last but definitely not least, we have to thank DeWight and crew at Wheels in Motion for supporting the MTB community by sponsoring this event and paying for the food and refreshments.
Michael Connolly
RHP Trail Coordinator